Happy Thursday! Can you see that? The weekend is almost here and I'm very grateful for that. Even though I had a few days off, this week seems to grow longer and longer. I hope your week is better than mine.
     My co-bloggers and I have started a new weekly blog post: The Page 69 Test! Have you heard of the page 69 test? If not, it's basically where you read page 69 of a book you think you will like. If you liked reading page 69, chances are you will enjoy reading the rest of the book.
Instead of posting the full page, we will be posting the first 10-20 lines of that page, starting with the first full sentence.
This week I chose what I'm currently reading and I love it. I think you guys will love it too. Gena Showalter is known for her Alice in Wonderland retelling with zombies but what happens when she takes Mean Girls and Freaky Friday, we combine the two and sprinkle a little darkness on top? We get Oh My Goth! This was first published in 2006 and it got a much-needed facelift. I hope you go out and read this tale that will blow you away.
"Clarik is going to die when he sees you.

If he shows up, I mutter.

If he doesn't, I'll sprad a rumor that he once used an empty doritos bag as a condom. I almost– almost– smile. I'm glad we're friends. Me, too. Leaning over, she air-kisses my cheek. I'll see you tomorrow at school.

You're not coming in? I thought we were going to ask Clarik to take us to Mercede's party? At some point during our shopping extravaganza, I caved and agreed to her plan.

Nah. Call me if you decide to go, though, and I'll meet you there. But there's no way I'm horning in on your date.

It's not a—–

Yeah, yeah. I know."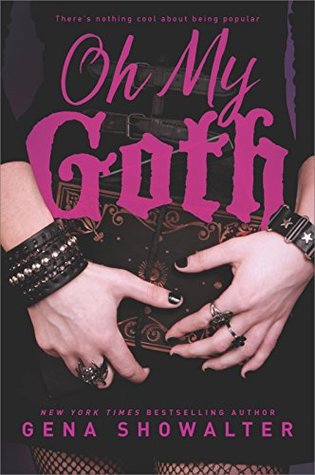 A note from Jade Leighton's journal Years ago, a tragic accident robbed me of my mother and emotions. Because I find beauty in darkness and thrive outside social norms, I've been labeled a "freak" at school. I know my continued apathy hurts my loved ones, but I'm not about to change. Nothing will ever hurt me again.Then I wake up in an alternate reality…and everything else has changed. Goth is in. I'm considered cool, and my archenemy–the formerly popular Mercedes–is the freak. But my real friends won't talk to me…and the new boy is getting under my skin. As my world spins out of control, I'm desperate to return to normal. But the more time that passes, the less I'm sure what "normal" really is.