Happy Monday! This week will be a better week because I'll have an extended weekend!!
This week I'm going to try to squeeze in three books. One will be for an upcoming blog tour, one is one from the publisher and another is a retelling of a holiday classic.
What are you reading this week?
Jinxed- Thommy Hutson
  High School Can Be a Real Killer
Break a mirror
Walk under a ladder
Step on a crack
Innocent childhood superstitions …
But someone at the secluded Trask Academy of Performing Arts is taking things one deadly step further when the campus is rocked with the deaths of some of its star students.
Layna Curtis, a talented, popular senior, soon realizes that the seemingly random, accidental deaths of her friends aren't random—or accidents—at all. Someone has taken the childhood games too far, using the idea of superstitions to dispose of their classmates. As Layna tries to convince people of her theory, she uncovers the terrifying notion that each escalating, gruesome murder leads closer to its final victim: her.
Will Layna's opening night also be her final bow?
Heroine- Mindy McGinnis
Three screws in her hip.
Two months until spring training.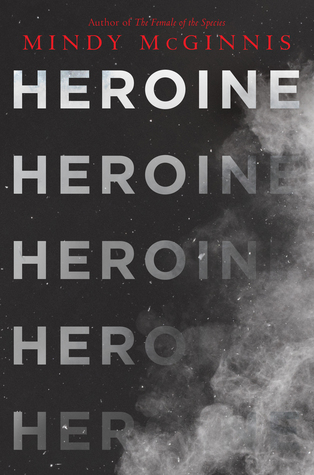 One answer to all her problems.
Mickey Catalan is no stranger to the opioid epidemic in her small town. There are obituaries of classmates who "died suddenly" and stories of overdoses in gas station bathrooms—but none of that is her. No, Mickey is a star softball catcher—one part of a dynamic duo with her best friend and pitcher Carolina—about to start her senior season with hopes of college recruitment. Until a car accident shatters that plan, along with her hip and Carolina's arm.
Now Mickey is hurting. She can barely walk, much less crouch behind the plate. Yet a little white pill can make it better. After all, it is doctor prescribed. But when the prescription runs out, Mickey turns to an elderly woman who pushes hot meatloaf and a baggie full of oxy across the kitchen counter. It's there Mickey makes new friends—other athletes in pain, others with just time to kill—and finds peaceful acceptance, a place where she can find words more easily than she ever has before. But as the pressure to be Mickey Catalan heightens, her desire for pills becomes less about pain and more about want,    something that could send her spiraling out of control.
Carols and Chaos- Cindy Anstey
 A lady's maid and a valet become entangled in a yuletide counterfeiting scheme in this romantic Christmas YA adventure.
1817. The happy chaos of the Yuletide season has descended upon the country estate of Shackleford Park in full force, but lady's maid Kate Darby barely has the time to notice. Between her household duties, caring for her ailing mother, and saving up money to someday own a dress shop, her hands are quite full. Matt Harlow is also rather busy. He's performing double-duty, acting as valet for both of the Steeple brothers, two of the estate's holiday guests.
Falling in love would be a disaster for either of them. But staving off their feelings for each other becomes the least of their problems when a devious counterfeiting scheme reaches the gates of Shackleford Park, and Kate and Matt are unwittingly swept up in the intrigue.
A companion book to Suitors and Sabotage.
Happy Reading!