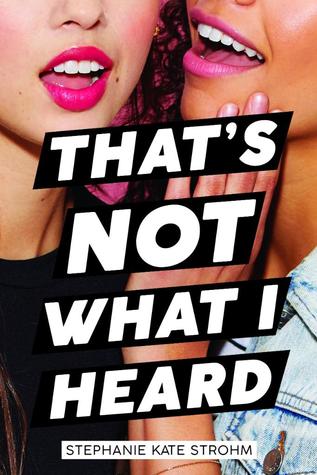 What did you hear?
Kimberly Landis-Lilley and Teddy Lin are over. Yes, the Kim and Teddy broke up.
At least that's what Phil Spooner thinks he overheard and then told Jess Howard, Kim's best friend. Something about Teddy not liking Kim's Instas? Or was it that Teddy is moving to Italy and didn't want to do long distance? Or that Kim slid into someone else's DMs?
Jess told her boyfriend, Elvis, that he needs to be on Kim's side. Especially if he wants to keep her as his girlfriend. But Elvis is also Teddy's best friend.
Now, Kim's run out of school for the day. Jess is furious. Elvis is confused. And half the lunch period won't talk to Teddy. Even the teachers have taken sides.
William Henry Harrison High will never be the same again!
My Review:
"But maybe that was part of saying goodbye- you were never really ready."
William Henry Harrison High is in total disarray. The "IT" couple has split up and everyone is losing their minds. But how did it happen? And why? I've heard that it was…. and she heard it was because….. As rumors start to fly and people start taking sides, will the school will never get back on track?
This book is the high school version of the telephone game. Someone tells a secret and it spreads to someone else with something else added to it and by the time it comes back to you, it's not even what you said. That game is this book.
It was an interesting concept but kind of dull. I was hoping for more laugh out loud moments instead of eye-rolling hijinks. Some of the characters were quirky and absolutely hilarious, while others were just painful. I'm also kind of confused at why the entire school cared that two people broke up? It's just a high school relationship, move on with your day!
Teens/tweens will resonate with this and enjoy the banter between the many points of view. As an adult, I found it exhausting. It just goes to show that you can't believe everything you hear.