Happy Tuesday!
Top Ten Tuesday was created by The Broke and the Bookish in June of 2010 and was moved to That Artsy Reader Girl in January of 2018. It was born of a love of lists, a love of books, and a desire to bring bookish friends together.
This weeks list is: Books I Meant to Read In 2018 but Didn't Get To….
Oh, Boy! This is going to be a doozy!
These are in no order and this could be a continuous list but I narrowed it down to ten.
Which books were you planning on reading last year that you just didn't get to?
Odd One Out- Nic Stone
   From the author of Dear Martin comes this exploration of old friendships, new crushes, and the path to self-discovery.
Courtney "Coop" Cooper
Dumped. Again. And normally I wouldn't mind. But right now, my best friend and source of solace, Jupiter Sanchez, is ignoring me to text some girl.
Rae Evelyn Chin
I assumed "new girl" would be synonymous with "pariah," but Jupiter and Courtney make me feel like I'm right where I belong. I also want to kiss him. And her. Which is . . . perplexing.
Jupiter Charity-Sanchez
The only thing worse than losing the girl you love to a boy is losing her to your boy. That means losing him, too. I have to make a move. . . .
One story.
Three sides.
No easy answers.
Not Even Bones- Rebecca Schaeffer
     Dexter meets This Savage Song in this dark fantasy about a girl who sells magical body parts on the black market — until she's betrayed.
Nita doesn't murder supernatural beings and sell their body parts on the internet—her mother does that. Nita just dissects the bodies after they've been "acquired." Until her mom brings home a live specimen and Nita decides she wants out; dissecting a scared teenage boy is a step too far. But when she decides to save her mother's victim, she ends up sold in his place—because Nita herself isn't exactly "human." She has the ability to alter her biology, a talent that is priceless on the black market. Now on the other side of the bars, if she wants to escape, Nita must ask herself if she's willing to become the worst kind of monster.
Vengeful-V.E. Schwab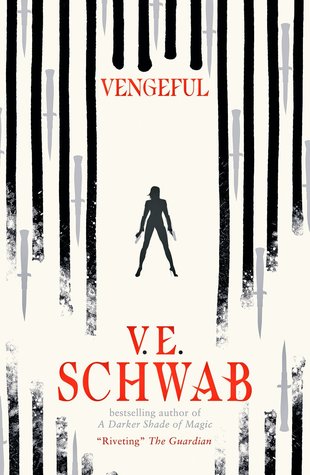 Eli Ever and Victor Vale were only medical students when their mutual discovery that near-death experiences can, under the right conditions, manifest extraordinary abilities.
They were best friends, and rivals, and then enemies. They were dead, then alive, and then—Eli killed Victor, once and for all.
Or so he thought—but Sydney Clarke felt otherwise, and used her own superpower to tip the scales. Now, a trio hides in the shadows, while another takes advantages of post-death life to take over the city of Merit.
If there can be life after death—will there be calm after vengeance, or will chaos rule?
Wicked- Jennifer Armentrout
     Things are about to get Wicked in New Orleans.
Twenty-two year old Ivy Morgan isn't your average college student. She, and others like her, know humans aren't the only thing trolling the French Quarter for fun… and for food. Her duty to the Order is her life. After all, four years ago, she lost everything at the hands of the creatures she'd sworn to hunt, tearing her world and her heart apart.
Ren Owens is the last person Ivy expected to enter her rigidly controlled life. He's six feet and three inches of temptation and swoon-inducing charm. With forest-green eyes and a smile that's surely left a stream of broken hearts in its wake, he has an uncanny, almost unnatural ability to make her yearn for everything he has to offer. But letting him in is as dangerous as hunting the cold-blooded killers stalking the streets. Losing the boy she loved once before had nearly destroyed her, but the sparking tension that grows between them becomes impossible for Ivy to deny. Deep down, she wants… she needs more than what her duty demands of her, what her past has shaped for her.
But as Ivy grows closer to Ren, she realizes she's not the only one carrying secrets that could shatter the frail bond between them. There's something he's not telling her, and one thing is for certain. She's no longer sure what is more dangerous to her—the ancient beings threatening to take over the town or the man demanding to lay claim to her heart and her soul.
Josh and Hazel's Guide to Not Dating- Christina Lauren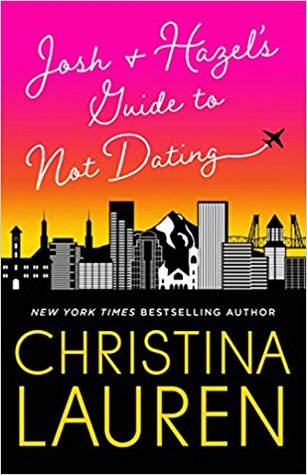 Hazel Camille Bradford knows she's a lot to take—and frankly, most men aren't up to the challenge. If her army of pets and thrill for the absurd don't send them running, her lack of filter means she'll say exactly the wrong thing in a delicate moment. Their loss. She's a good soul in search of honest fun.
Josh has known Hazel since college, where her zany playfulness proved completely incompatible with his mellow restraint. From the first night they met—when she gracelessly threw up on his shoes—to when she sent him an unintelligible email while in a post-surgical haze, Josh has always thought of Hazel more as a spectacle than a peer. But now, ten years later, after a cheating girlfriend has turned his life upside down, going out with Hazel is a breath of fresh air.
Not that Josh and Hazel date. At least, not each other. Because setting each other up on progressively terrible double blind dates means there's nothing between them…right?
The Water Cure- Sophie Mackintosh
   Imagine a world very close to our own: where women are not safe in their bodies, where desperate measures are required to raise a daughter. This is the story of Grace, Lia, and Sky kept apart from the world for their own good and taught the terrible things that every woman must learn about love. And it is the story of the men who come to find them – three strangers washed up by the sea, their gazes hungry and insistent, trailing desire and destruction in their wake.
Hypnotic and compulsive, The Water Cure is a fever dream, a blazing vision of suffering, sisterhood, and transformation.
#Murdertrending- Gretchen McNeil
  WELCOME TO THE NEAR FUTURE, where good and honest 8/18 citizens can enjoy watching the executions of society's most infamous convicted felons, streaming live on The Postman app from the suburbanized prison island Alcatraz 2.0.
When eighteen-year-old Dee Guerrera wakes up in a haze, lying on the ground of a dimly lit warehouse, she realizes she's about to be the next victim of the app. Knowing hardened criminals are getting a taste of their own medicine in this place is one thing, but Dee refuses to roll over and die for a heinous crime she didn't commit. Can Dee and her newly formed posse, the Death Row Breakfast Club, prove she's innocent before she ends up wrongfully murdered for the world to see? Or will The Postman's cast of executioners kill them off one by one?
Monday's Not Coming- Tiffany Jackson
   Monday Charles is missing, and only Claudia seems to notice. Claudia and Monday have always been inseparable—more sisters than friends. So when Monday doesn't turn up for the first day of school, Claudia's worried. When she doesn't show for the second day, or second week, Claudia knows that something is wrong. Monday wouldn't just leave her to endure tests and bullies alone. Not after last year's rumors and not with her grades on the line. Now Claudia needs her best—and only—friend more than ever. But Monday's mother refuses to give Claudia a straight answer, and Monday's sister April is even less help.
As Claudia digs deeper into her friend's disappearance, she discovers that no one seems to remember the last time they saw Monday. How can a teenage girl just vanish without anyone noticing that she's gone?
Toil & Trouble: 15 Tales of Women & Witchcraft
     A young adult fiction anthology of 15 stories featuring contemporary, historical, and futuristic stories featuring witchy heroines who are diverse in race, class, sexuality, religion, geography, and era.
Are you a good witch or a bad witch?
Glinda the Good Witch. Elphaba the Wicked Witch. Willow. Sabrina. Gemma Doyle. The Mayfair Witches. Ursula the Sea Witch. Morgan le Fey. The three weird sisters from Macbeth.
History tells us women accused of witchcraft were often outsiders: educated, independent, unmarried, unwilling to fall in line with traditional societal expectations.
Bold. Powerful. Rebellious.
A bruja's traditional love spell has unexpected results. A witch's healing hands begin to take life instead of giving it when she ignores her attraction to a fellow witch. In a terrifying future, women are captured by a cabal of men crying witchcraft and the one true witch among them must fight to free them all. In a desolate past, three orphaned sisters prophesize for a murderous king. Somewhere in the present, a teen girl just wants to kiss a boy without causing a hurricane.
From good witches to bad witches, to witches who are a bit of both, this is an anthology of diverse witchy tales from a collection of diverse, feminist authors. The collective strength of women working together—magically or mundanely–has long frightened society, to the point that women's rights are challenged, legislated against, and denied all over the world. Toil & Trouble delves deep into the truly diverse mythology of witchcraft from many cultures and feminist points of view, to create modern and unique tales of witchery that have yet to be explored.
Seafire- Natalie Parker
   After her family is killed by corrupt warlord Aric Athair and his bloodthirsty army of Bullets, Caledonia Styx is left to chart her own course on the dangerous and deadly seas. She captains her ship, the Mors Navis, with a crew of girls and women just like her, who have lost their families and homes because of Aric and his men. The crew has one mission: stay alive, and take down Aric's armed and armored fleet.
But when Caledonia's best friend and second-in-command barely survives an attack thanks to help from a Bullet looking to defect, Caledonia finds herself questioning whether to let him join their crew. Is this boy the key to taking down Aric Athair once and for all . . . or will he threaten everything the women of the Mors Navis have worked for?