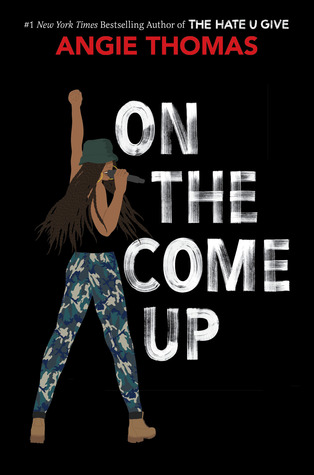 Sixteen-year-old Bri wants to be one of the greatest rappers of all time. Or at least make it out of her neighborhood one day. As the daughter of an underground rap legend who died before he hit big, Bri's got big shoes to fill. But now that her mom has unexpectedly lost her job, food banks and shutoff notices are as much a part of Bri's life as beats and rhymes. With bills piling up and homelessness staring her family down, Bri no longer just wants to make it—she has to make it.
On the Come Up is Angie Thomas's homage to hip-hop, the art that sparked her passion for storytelling and continues to inspire her to this day. It is the story of fighting for your dreams, even as the odds are stacked against you; of the struggle to become who you are and not who everyone expects you to be, and of the desperate realities of poor and working-class black families.
My Review:
"I lost my cool so bad that I've lost more than I realize. I'm lost. I'm so lost that I'm exhausted from trying to find my way."
The Hate U Give is one of my all time favorite books and I couldn't recommend it enough. When she announced that a second book was on the way, I was stoked and couldn't wait for Bri's story. It pains me to say this but this was hyped too much and this didn't hit me the way THUG did. I remember being emotionally crushed after reading that and this one just left me content.
It took me a lot longer to connect with the characters in this book than with her first. Bri's character didn't have that emotional attachment like Starr did. Plus I was flabbergasted at how Bri treated and disobeyed her family. I would have gotten the shoe if I did something like that.
Angie hits a lot of strong subjects in this book. It makes some references to the first book and it leads to larger problems at the school. Scenes will leave you shocked because this actually happens in the real world as people turn a blind eye to it. This will make you open your eyes and look at things differently. We need to support one another and not let these people of hate get away with it.