Happy Friday. The weekend is almost upon us and I think we all deserve a nice relaxing weekend.
This Friday's book is something that I just finished and am freaking out about. This was so amazing that I've been telling everyone that they have to read it. It was so good that it took me a little over a day to read and now I'm extremely desperate for book two.
While this is a post about the first line, I'm going to be breaking the rules and giving you the first paragraph. I hope you enjoy this as much as I did.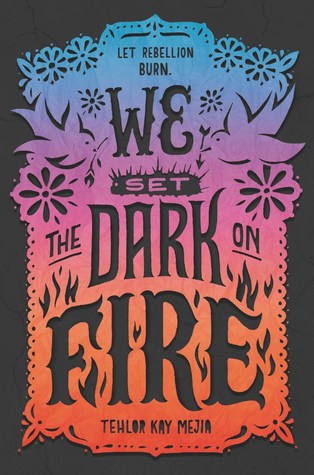 In this daring and romantic fantasy debut perfect for fans of The Handmaid's Tale and Latinx authors Zoraida Córdova and Anna-Marie McLemore, society wife-in-training Dani has a great awakening after being recruited by rebel spies and falling for her biggest rival. 
At the Medio School for Girls, distinguished young women are trained for one of two roles in their polarized society. Depending on her specialization, a graduate will one day run a husband's household or raise his children. Both paths promise a life of comfort and luxury, far from the frequent political uprisings of the lower class.
Daniela Vargas is the school's top student, but her pedigree is a lie. She must keep the truth hidden or be sent back to the fringes of society.
And school couldn't prepare her for the difficult choices she must make after graduation, especially when she is asked to spy for a resistance group desperately fighting to bring equality to Medio.
Will Dani cling to the privilege her parents fought to win for her, or will she give up everything she's strived for in pursuit of a free Medio—and a chance at a forbidden love?
"Daniela Vargas woke at the first whisper of footsteps coming up the road.

By the time the sound of shattering glass in the courtyard alerted the campus to the presence of intruders, she was dressed and ready. For what? She wasn't sure. After a childhood of heavy-footed military police in close pursuit, she knew better than to mistake the luxury of her surroundings for safety. 

She was only as safe as she was vigilant."