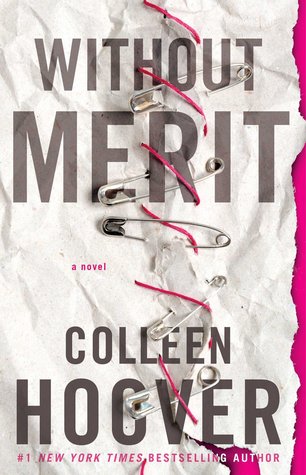 Not every mistake deserves a consequence. Sometimes the only thing it deserves is forgiveness.
The Voss family is anything but normal. They live in a repurposed church, newly baptized Dollar Voss. The once cancer-stricken mother lives in the basement, the father is married to the mother's former nurse, the little half-brother isn't allowed to do or eat anything fun, and the eldest siblings are irritatingly perfect. Then, there's Merit.
Merit Voss collects trophies she hasn't earned and secrets her family forces her to keep. While browsing the local antiques shop for her next trophy, she finds Sagan. His wit and unapologetic idealism disarm and spark renewed life into her—until she discovers that he's completely unavailable. Merit retreats deeper into herself, watching her family from the sidelines when she learns a secret that no trophy in the world can fix.
Fed up with the lies, Merit decides to shatter the happy family illusion that she's never been a part of before leaving them behind for good. When her escape plan fails, Merit is forced to deal with the staggering consequences of telling the truth and losing the one boy she loves.
My Review:
"Not every mistake deserves a consequence. Sometimes the only thing it deserves is forgiveness."
Well, it looks like I'm in the minority with this book because I really enjoyed this one. A lot of people have warned me away from this but I thought this was really good. It was a lot different than what I was expecting but it still packed that emotional punch.
Merit and her family are anything but normal. They are quirky, broken, and have plenty of problems but they aren't that supportive. Merit feels left out and she's been slowly giving up on things in her life. Except for other people's trophies.
While skipping school one day, Merit finds an incredibly attractive guy watching her every move with a smile that could melt anyone. After she makes her purchase, makes her way outside, she runs into this guy and they have the most incredible kiss. Not knowing who he is, she falls into it. Until she realizes that he thinks she's someone else, that someone else being her twin sister, Honor.
Keeping this big of a secret should be no problem for her. Her entire life has been nothing but keeping other secrets for her family and away from each other. She also feels invisible. That is until Sagan starts popping up over at their house early in the morning and at dinner. She can't get away from him but he notices her.
With so many family problems making their way out into the open, Merit finds herself sliding into a deeper hole that she can't get herself out of. Will someone notice this fast downslide? Or will it consume her?
Without Merit was a book that I knew I was going to love. Dysfunctional families are kind of my thing and I can't get enough. It makes me realize that my family isn't the only crazy ones in the world. But this sweet, heart-wrenching story made me weep deeply at the downslide and the love. Let's not forget all that dry humor that just made me cry even harder. Sagan and Merit's story was something that touched me deeply and it's something that I'll never forget. This memorable story is something everyone should read. It will make the darkest soul shine brightly.
You Bury Me
Happy Reading!