This week I'm going to read what I planned on reading last week because I dropped everything for Finale.
What are you planning on reading this week?
Waiting For Tom Hanks- Kerry Winfrey
Can a romcom-obsessed romantic finally experience the meet-cute she always dreamed of or will reality never compare to fiction, in this charming debut adult novel from Kerry Winfrey.
Annie is twenty-seven years old, single, and obsessed with romantic comedies (she and her mother watched them religiously before her mom died). Her dating life is limited by the expectations she's formed from these movies. She is not as open to new experiences as she might be, because she's waiting for her Tom Hanks–i.e., a guy she'll find in the perfect, meet-cute romantic comedy way. When Annie does finally meet her perfect match, it's not quite in the way she expected, and she's forced to reckon with the walls she's built around herself over the years.
Spectacle- Jodie Lynn Zdrok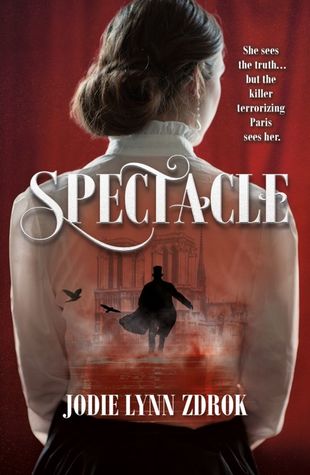 A YA murder mystery in which a young reporter must use her supernatural visions to help track down a killer targeting the young women of Paris.
Paris, 1887.
Sixteen-year-old Nathalie Baudin writes the daily morgue column for Le Petit Journal. Her job is to summarize each day's new arrivals, a task she finds both fascinating and routine. That is, until the day she has a vision of the newest body, a young woman, being murdered–from the perspective of the murderer himself.
When the body of another woman is retrieved from the Seine days later, Paris begins to buzz with rumors that this victim may not be the last. Nathalie's search for answers sends her down a long, twisty road involving her mentally ill aunt, a brilliant but deluded scientist, and eventually into the Parisian Catacombs. As the killer continues to haunt the streets of Paris, it becomes clear that Nathalie's strange new ability may make her the only one who can discover the killer's identity–and she'll have to do it before she becomes a target herself.
The Unhoneymooners- Christina Lauren
Olive is always unlucky: in her career, in love, in…well, everything. Her identical twin sister Amy, on the other hand, is probably the luckiest person in the world. Her meet-cute with her fiancé is something out of a romantic comedy (gag) and she's managed to finance her entire wedding by winning a series of Internet contests (double gag). Worst of all, she's forcing Olive to spend the day with her sworn enemy, Ethan, who just happens to be the best man.
Olive braces herself to get through 24 hours of wedding hell before she can return to her comfortable, unlucky life. But when the entire wedding party gets food poisoning from eating bad shellfish, the only people who aren't affected are Olive and Ethan. And now there's an all-expenses-paid honeymoon in Hawaii up for grabs.
Putting their mutual hatred aside for the sake of a free vacation, Olive and Ethan head for paradise, determined to avoid each other at all costs. But when Olive runs into her future boss, the little white lie she tells him is suddenly at risk to become a whole lot bigger. She and Ethan now have to pretend to be loving newlyweds, and her luck seems worse than ever. But the weird thing is that she doesn't mind playing pretend. In fact, she feels kind of… lucky.