Pet Sematary- Stephen King
When Louis Creed & his family move from Chicago into a beautiful old house in rural Maine, it all seems too good to be true: physician father, beautiful wife, charming little daughter, adorable infant son–and now an idyllic home. As a family, they've got it all…right down to the friendly cat.
The road in front of their home frequently claims the lives of neighborhood pets. Near their house, local children have created a cemetery for the dogs & cats killed by the steady stream of transports on the busy highway. Deeper in the woods lies another graveyard, an ancient Indian burial ground whose sinister properties Louis discovers when the family cat is killed.
His Hideous Heart- Dahlia Adler
Thirteen of YA's most celebrated names reimagine Edgar Allan Poe's most surprising, unsettling, and popular tales for a new generation.

Edgar Allan Poe may be a hundred and fifty years beyond this world, but the themes of his beloved works have much in common with modern young adult fiction. Whether the stories are familiar to readers or discovered for the first time, readers will revel in Edgar Allan Poe's classic tales, and how they've been brought to life in 13 unique and unforgettable ways.
Contributors include Kendare Blake (reimagining "Metzengerstein"), Rin Chupeco ("The Murders in the Rue Morge"), Lamar Giles ("The Oval Portrait"), Tessa Gratton ("Annabel Lee"), Tiffany D. Jackson ("The Cask of Amontillado"), Stephanie Kuehn ("The Tell-Tale Heart"), Emily Lloyd-Jones ("The Purloined Letter"), Hillary Monahan ("The Masque of the Red Death"), Marieke Nijkamp ("Hop-Frog"), Caleb Roehrig ("The Pit and the Pendulum"), and Fran Wilde ("The Fall of the House of Usher")
Maybe This Time- Kasie West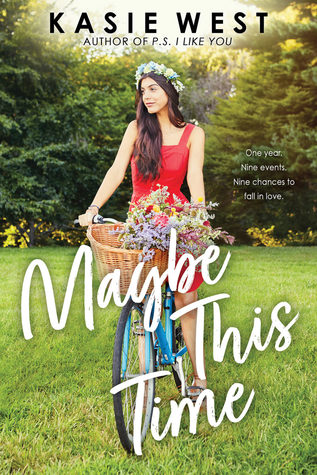 One year. Nine events. Nine chances to . . . fall in love?
Weddings. Funerals. Barbecues. New Year's Eve parties. Name the occasion, and Sophie Evans will be there. Well, she has to be there. Sophie works for the local florist, so she can be found at every big event in her small hometown, arranging bouquets and managing family dramas.
Enter Andrew Hart. The son of the fancy new chef in town, Andrew is suddenly required to attend all the same events as Sophie. Entitled, arrogant, preppy Andrew. Sophie just wants to get her job done and finish up her sketches so she can apply to design school. But every time she turns around, there is Andrew, getting in her way and making her life more complicated. Until one day she wonders if maybe complicated isn't so bad after all . . .
Told over the course of one year and following Sophie from event to event, this delightful novel from master of romantic comedy Kasie West shows how love can blossom in unexpected places.
King of Fools- Amanda Foody
Indulge your vices in the City of Sin, where a sinister street war is brewing and fame is the deadliest killer of them all…
On the quest to find her missing mother, prim and proper Enne Salta became reluctant allies with Levi Glaisyer, the city's most famous con man. Saving his life in the Shadow Game forced Enne to assume the identity of Seance, a mysterious underworld figure. Now, with the Chancellor of the Republic dead and bounties on both their heads, she and Levi must play a dangerous game of crime and politics…with the very fate of New Reynes at stake.
Thirsting for his freedom and the chance to build an empire, Levi enters an unlikely partnership with Vianca Augustine's estranged son. Meanwhile, Enne remains trapped by the mafia donna's binding oath, playing the roles of both darling lady and cunning street lord, unsure which side of herself reflects the truth.
As Enne and Levi walk a path of unimaginable wealth and opportunity, new relationships and deadly secrets could quickly lead them into ruin. And when unforeseen players enter the game, they must each make an impossible choice: To sacrifice everything they've earned in order to survive…
Or die as legends.
What are you reading this week?