Top Ten Tuesday was created by The Broke and the Bookish in June of 2010 and was moved to That Artsy Reader Girl in January of 2018. It was born of a love of lists, a love of books, and a desire to bring bookish friends together.
This week's topic: Outrageous Things I've Done for the Love of Books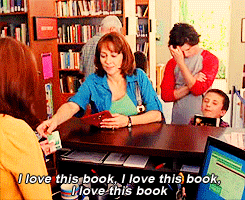 Stayed up all night to preorder a special edition of a book and I didn't even get a copy in the end 😦

Spent the last few dollars for the month on books

Called out of work to finish a book

Broke off a friendship due to negative comments about my favorite book

Traveled across the country for a book conference…. that broke the bank

Became obsessed with a series and purchased all the editions I could find…. even though I don't know how to read certain languages

Lost lots of sleep to binge read 

Ignored my Husband (Sorry, Trent)

Rounded down how much money I spend on books per month

Filled my entire closet in the bedroom with books that I need to read
What things have you done for the love of books?