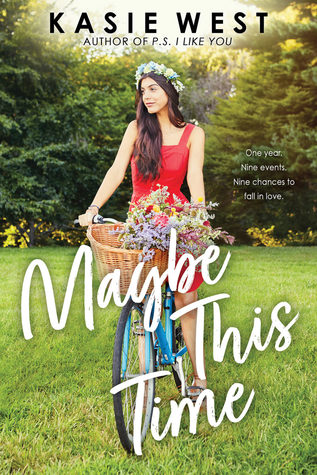 One year. Nine events. Nine chances to . . . fall in love?
Weddings. Funerals. Barbecues. New Year's Eve parties. Name the occasion, and Sophie Evans will be there. Well, she has to be there. Sophie works for the local florist, so she can be found at every big event in her small hometown, arranging bouquets and managing family dramas.
Enter Andrew Hart. The son of the fancy new chef in town, Andrew is suddenly required to attend all the same events as Sophie. Entitled, arrogant, preppy Andrew. Sophie just wants to get her job done and finish up her sketches so she can apply to design school. But every time she turns around, there is Andrew, getting in her way and making her life more complicated. Until one day she wonders if maybe complicated isn't so bad after all . . .
Told over the course of one year and following Sophie from event to event, this delightful novel from master of romantic comedy Kasie West shows how love can blossom in unexpected places.
My Review:
"I didn't even care; he tasted like heaven and I felt like I was floating on air."
Usually, with any Kasie West book, it's an instant love for me. But this took me quite some time to get into and I felt as if I walked into the middle of a conversation. This was sort of cute, just not my favorite of hers.
At times I felt that there wasn't much of a plot. There was no lead-way to what was happening, you just jump straight in head first. The banter between the two lead characters wasn't as funny as her others. I felt the pure hatred flow between the pages because it burned like a roaring fire. I wasn't actually sure if Andrew and Sophie were going to get to that inevitable point like in almost every other contemporary novel. It happened but it felt fake.
I did love seeing the working side of being a caterer and florist. It was interesting reading about all the things they go through to make everything perfect for your special day. I also really enjoyed the growing of Sophie's family. She was really easy to judge a situation before she knew all the facts but in the end, it brought her family closer together.
Maybe This Time wasn't my favorite but I didn't hate it. We all know what to expect from contemporary novels but this one didn't have that heart-eyed overflowing cuteness like all her others.