Good Morning! Hope everyone has a fantastic week. I know that I'm going to enjoy this week because I don't go back to work until Thursday!!
I didn't read as much last week as I planned, so I'm adding it to this week.
What are you reading this week?
You- Caroline Kepnes
From debut author Caroline Kepnes comes You, one of Suspense Magazine's Best Books of 2014, and a brilliant and terrifying novel for the social media age.
When a beautiful aspiring writer strides into the East Village bookstore where Joe Goldberg works, he does what anyone would do: he Googles the name on her credit card.
There is only one Guinevere Beck in New York City. She has a public Facebook account and Tweets incessantly, telling Joe everything he needs to know: she is simply Beck to her friends, she went to Brown University, she lives on Bank Street, and she'll be at a bar in Brooklyn tonight—the perfect place for a "chance" meeting.
As Joe invisibly and obsessively takes control of Beck's life, he orchestrates a series of events to ensure Beck finds herself in his waiting arms. Moving from stalker to boyfriend, Joe transforms himself into Beck's perfect man, all while quietly removing the obstacles that stand in their way—even if it means murder.
A terrifying exploration of how vulnerable we all are to stalking and manipulation, debut author Caroline Kepnes delivers a razor-sharp novel for our hyper-connected digital age. You is a compulsively readable page-turner that's being compared to Gone Girl, American Psycho, and Stephen King's Misery.
We Rule the Night- Claire Elizabeth Bartlett
Two girls use forbidden magic to fly and fight–for their country and for themselves–in this riveting debut that's part Shadow and Bone, part Code Name Verity.
Seventeen-year-old Revna is a factory worker, manufacturing war machines for the Union of the North. When she's caught using illegal magic, she fears being branded a traitor and imprisoned. Meanwhile, on the front lines, Linné defied her father, a Union general, and disguised herself as a boy to join the army. They're both offered a reprieve from punishment if they use their magic in a special women's military flight unit and undertake terrifying, deadly missions under cover of darkness. Revna and Linné can hardly stand to be in the same cockpit, but if they can't fly together, and if they can't find a way to fly well, the enemy's superior firepower will destroy them–if they don't destroy each other first.
We Rule the Night is a powerful story about sacrifice, complicated friendships, and survival despite impossible odds.
Royals- Rachel Hawkins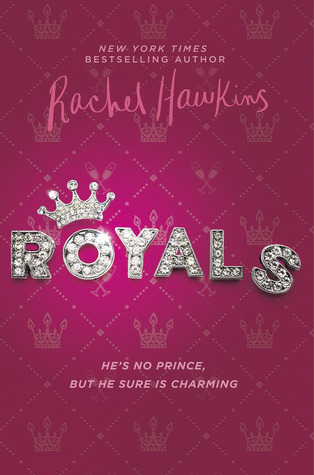 Meet Daisy Winters. She's an offbeat sixteen-year-old Floridian with mermaid-red hair; a part time job at a bootleg Walmart, and a perfect older sister who's nearly engaged to the Crown Prince of Scotland. Daisy has no desire to live in the spotlight, but relentless tabloid attention forces her to join Ellie at the relative seclusion of the castle across the pond.
While the dashing young Miles has been appointed to teach Daisy the ropes of being regal, the prince's roguish younger brother kicks up scandal wherever he goes, and tries his best to take Daisy along for the ride. The crown–and the intriguing Miles–might be trying to make Daisy into a lady . . . but Daisy may just rewrite the royal rulebook to suit herself.
Killing November- Adriana Mather
It's a school completely off the grid, hidden by dense forest and surrounded by traps. There's no electricity, no internet, and an eye-for-an-eye punishment system. Classes include everything from Knife-Throwing and Poisons to the Art of Deception and Historical Analysis. And all of the students are children of the world's most elite strategists—training to become assassins, counselors, spies, and master impersonators. Into this world walks November Adley, who quickly discovers that friends are few in a school where personal revelations are discouraged and competition is everything. When another student is murdered, all eyes turn to November, who must figure out exactly how she fits into the school's bizarre strategy games before she is found guilty of the crime…or becomes the killer's next victim.
Sweet Valley High Super Thriller: Double Jeopardy- Francine Pascal
Hot pursuit… 
When twin sisters Jessica and Elizabeth Wakefield land internships at the Sweet Valley News, they think they'll be reporting the news – but they end up making headlines when Jessica becomes an eyewitness to murder.
Then Adam Maitland, a friend of the twins' brother, Steven, is charged with the  murder. And Elizabeth has evidence that could convict him!
Jessica knows Adam is innocent – she saw the murderer – and she sets out to prove it. The problem is, he saw her, too. Can the twins find the killer before he finds them? Or will Jessica and Elizabeth be caught in a deadly case of mistaken identity?
Find out in DOUBLE JEOPARDY, the first Sweet Valley High Super Thriller!
Harley Quinn: Breaking Glass- Mariko Tamaki 
Harley Quinn: Breaking Glass is a coming-of-age story about choices, consequences, justice, fairness and progress and how a weird kid from Gotham's poorest part of town goes about defining her world for herself. From Caldecott Honor-winning author Mariko Tamaki (This One Summer, Supergirl: Being Super).
Harleen is a tough, outspoken, rebellious kid who lives in a ramshackle apartment above a karaoke cabaret owned by a drag queen named MAMA. Ever since Harleen's parents split, MAMA has been her only family. When the cabaret becomes the next victim in the wave of gentrification that's taking over the neighborhood, Harleen gets mad.
When Harleen decides to turn her anger into action, she is faced with two choices: join Ivy, who's campaigning to make the neighborhood a better place to live, or join The Joker, who plans to take down Gotham one corporation at a time.
Harley Quinn: Breaking Glass is at once a tale of the classic Harley readers know and love, and a heartfelt story about the choices teenagers make and how they can define–or destroy–their lives. This is the first title in DC's new line of original graphic novels for middle grade and young adult readers.