Happy Memorial Day!
This week I'm going to read a book for a blog tour that is this Wednesday and then somethings I've had in my book closet.
What are you reading?
Dark Shores- Danielle L. Jensen
High seas adventure, blackmail, and meddling gods meet in Dark Shores, a thrilling first novel in a fast-paced new YA fantasy series by USA Today bestselling author Danielle L. Jensen.
In a world divided by meddlesome gods and treacherous oceans, only the Maarin possess the knowledge to cross the Endless Seas. But they have one mandate: East must never meet West.
A PIRATE WITH A WILL OF IRON
Teriana is the second mate of the Quincense and heir to the Maarin Triumvirate. Her people are born of the seas and the keepers of its secrets, but when her closest friend is forced into an unwanted betrothal, Teriana breaks her people's mandate so her friend might escape—a choice with devastating consequences.
A SOLDIER WITH A SECRET
Marcus is the commander of the Thirty-Seventh, the notorious legion that has led the Celendor Empire to conquer the entire East. The legion is his family, but even they don't know the truth he's been hiding since childhood. It's a secret he'll do anything to protect, no matter how much it costs him – and the world.
A DANGEROUS QUEST
When an Empire senator discovers the existence of the Dark Shores, he captures Teriana's crew and threatens to reveal Marcus's secret unless they sail in pursuit of conquest, forcing the two into an unlikely—and unwilling—alliance. They unite for the sake of their families, but both must decide how far they are willing to go, and how much they are willing to sacrifice.
Rule- Ellen Goodlett
Three girls with three deadly secrets. Only one can wear the crown.
The king is dying, his heir has just been murdered, and rebellion brews in the east. But the kingdom of Kolonya and the outer Reaches has one last option before it descends into leaderless chaos.
Or rather, three unexpected options.
Zofi has spent her entire life trekking through the outer Reaches with her band of Travelers. She would do anything to protect the band, her family. But no one can ever find out how far she's already gone.
Akeylah was raised in the Eastern Reach, surrounded by whispers of rebellion and abused by her father. Desperate to escape, she makes a decision that threatens the whole kingdom.
Ren grew up in Kolonya, serving as a lady's maid and scheming her way out of the servants' chambers. But one such plot could get her hung for treason if anyone ever discovers what she's done.
When the king summons the girls, they arrive expecting arrest or even execution. Instead they learn the truth: they are his illegitimate daughters, and one must become his new heir. But someone in Kolonya knows their secrets, and that someone will stop at nothing to keep the sisters from their destiny… to rule.
Magic, mystery, and blackmail abound in this sensational and striking fantasy debut.
Wild and Crooked- Leah Thomas
Critically-acclaimed author Leah Thomas blends a small-town setting with the secrets of a long-ago crime, in a compelling novel about breaking free from the past.
In Samsboro, Kentucky, Kalyn Spence's name is inseparable from the brutal murder her father committed when he was a teenager. Forced to return to town, Kalyn must attend school under a pseudonym . . . or face the lingering anger of Samsboro's citizens, who refuse to forget the crime.
Gus Peake has never had the luxury of redefining himself. A Samsboro native, he's either known as the "disabled kid" because of his cerebral palsy, or as the kid whose dad was murdered. Gus just wants to be known as himself.
When Gus meets Kalyn, her frankness is refreshing, and they form a deep friendship. Until their families' pasts emerge. And when the accepted version of the truth is questioned, Kalyn and Gus are caught in the center of a national uproar. Can they break free from a legacy of inherited lies and chart their own paths forward?
All We Could Have Been

–

T.E. Carter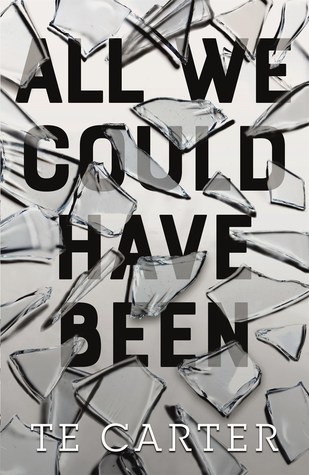 Five years ago, Lexie walked home from school after her older brother failed to pick her up. When she entered her house, her brother sat calmly, waiting for the police to come arrest him for the heinous crime he had just committed.
Treated like a criminal herself, Lexie now moves from school to school hiding who she is—who she's related to. She struggles with loving her brother, the PTSD she now suffers from, and wanting to just live a normal life. But how can she be normal when she can't even figure out how to just live?
This is a powerful look at the assumptions we make about people. Lexie's emotional journey to separate her brother's horrific act from herself is stunning and heartbreaking. This is Lexie's story and journey—not her brother's—and it will stay with you long after you turn the last page.