Well, I didn't read as much as I wanted to do last week, so I'll be reading the books I missed, plus a book an author sent me, and try to squeeze in another book sent to me by the publisher.
What are you reading?
A Curse So Dark and Lonely- Brigid Kemmerer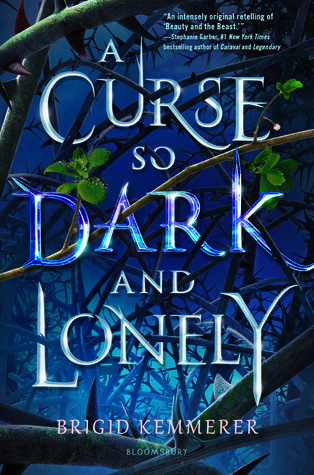 Fall in love, break the curse.
Cursed by a powerful enchantress to repeat the autumn of his eighteenth year, Prince Rhen, the heir of Emberfall, thought he could be saved easily if a girl fell for him. But that was before he turned into a vicious beast hell-bent on destruction. Before he destroyed his castle, his family, and every last shred of hope.
Nothing has ever been easy for Harper. With her father long gone, her mother dying, and her brother constantly underestimating her because of her cerebral palsy, Harper learned to be tough enough to survive. When she tries to save a stranger on the streets of Washington, DC, she's pulled into a magical world.
Break the curse, save the kingdom.
Harper doesn't know where she is or what to believe. A prince? A curse? A monster? As she spends time with Rhen in this enchanted land, she begins to understand what's at stake. And as Rhen realizes Harper is not just another girl to charm, his hope comes flooding back. But powerful forces are standing against Emberfall . . . and it will take more than a broken curse to save Harper, Rhen, and his people from utter ruin.
The Science of Rick and Morty: The Unofficial Guide to Earth's Stupidest Show- Matt Brady
Explore the real science behind the Cartoon Network phenomenon Rick and Morty —one of television's most irreverent, whip-smart, and darkly hilarious shows—and discover how close we are to Rick's many experiments becoming a reality. 
Adult Swim's Rick and Morty is one of the smartest (and most insane) shows on television. Genius alcoholic Rick Sanchez and his hapless grandson Morty have explored everything from particle physics to human augmentation and much more in their intergalactic adventures through the multiverse. With biting humor and plenty of nihilism, Rick and Morty employs cutting-edge scientific theories in every episode. But, outside of Rick's garage laboratory, what are these theories truly about and what can they teach us about ourselves?
Blending biology, chemistry, and physics basics with accessible—and witty—prose, The Science of Rick and Morty equips you with the scientific foundation to thoroughly understand Rick's experiments from the show, such as how we can use dark matter and energy, just what is intelligence hacking, and whether or not you can really control a cockroach's nervous system with your tongue. Perfect for longtime and new fans of the show, this is the ultimate segue into discovering more about our complicated and fascinating universe.
Duckett & Dyer: Dicks for Hire-

G.M. Nair
Michael Duckett is fed up with his life. His job is a drag, and his roommate and best friend of fifteen years, Stephanie Dyer, is only making him more anxious with her lazy irresponsibility. Things continue to escalate when they face the threat of imminent eviction from their palatial 5th floor walk-up and find that someone has been plastering ads all over the city for their Detective Agency.
The only problem is: He and Stephanie don't have one of those.
Despite their baffling levels of incompetence, Stephanie eagerly pursues this crazy scheme and drags Michael, kicking and screaming, into the fray only to find that they are way out of their depth. They stumble upon a web of missing people that are curiously linked to a sexually audacious theoretical physicist and his experiments with the fabric of space-time. And unless Michael and Stephanie can put their personal issues aside and fix the multi-verse, the concept of existence itself may, ironically, no longer exist.
Well Met- Jen

DeLuca
All's faire in love and war for two sworn enemies who indulge in a harmless flirtation in a laugh-out-loud rom-com from debut author Jen DeLuca.
Emily knew there would be strings attached when she relocated to the small town of Willow Creek, Maryland, for the summer to help her sister recover from an accident, but who could anticipate getting roped into volunteering for the local Renaissance Faire alongside her teenaged niece? Or that the irritating and inscrutable schoolteacher in charge of the volunteers would be so annoying that she finds it impossible to stop thinking about him?
The faire is Simon's family legacy and from the start he makes clear he doesn't have time for Emily's lighthearted approach to life, her oddball Shakespeare conspiracy theories, or her endless suggestions for new acts to shake things up. Yet on the faire grounds he becomes a different person, flirting freely with Emily when she's in her revealing wench's costume. But is this attraction real, or just part of the characters they're portraying?
This summer was only ever supposed to be a pit stop on the way to somewhere else for Emily, but soon she can't seem to shake the fantasy of establishing something more with Simon or a permanent home of her own in Willow Creek.