Look out for the original series—starring Peyton List, Brent Rivera, Liana Liberato, Ajiona Alexus, and Dylan Sprayberry—now streaming on Hulu!
McKenna's mission to save her friends from their predicted deaths continues in the second installment in the Light as a Feather series that's perfect for fans of Pretty Little Liars and The Chilling Adventures of Sabrina!
The deadly game continues…
Olivia and Candace are dead, both casualties of Violet's deadly game of Light as a Feather, Stiff as a Board. McKenna and Mischa are the only ones left, and having failed to locate and destroy the source of Violet's power, her curse still abounds, eager to claim more lives.
What does Violet want? And how can she be stopped? Armed with a mysterious package containing clues, as well as a little help from the beyond, McKenna hopes to end this once and for all…before it's too late.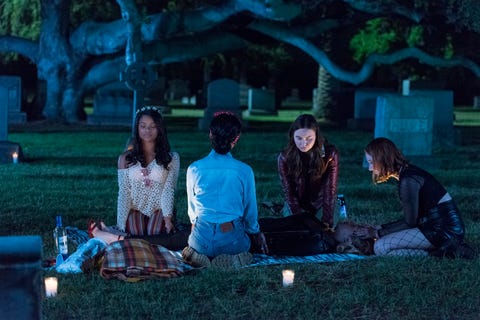 My Review
"The girl's bare feet weren't leaving footprints in the snow that had collected on the asphalt….
My blood ran ice cold. I was certain, more certain than I'd ever been about anything, that we were looking at a ghost."
After finishing Light as a Feather, I knew that I immediately needed to read Cold as Marble. But now I'm wishing for September to arrive quicker because I need to know how this dark and twisted tale will end.
This picks up right after the first book. We see how everyone's life turned out after the explosive ending to Light as a Feather. It's definitely an interesting look and we finally get some answers to our burning questions.
Cold as Marble was good and had its eerie moments but it just wasn't as good as the first one. That doesn't mean that I didn't enjoy this one because I did. It just wasn't as intense or as unsettling as the first book. I was very invested in the story and where it was going. I've no idea where the next book will take us but I'm deathly excited to find out.
I'm just going to sit here, pout, and keep marking days off the calendar until the release of Silent as the Grave…
Who's ready to play Light as a Feather with me?
*evil grin*