A PRINCESS
A STABLE BOY
A QUEST
When her father dies, Princess Amarande is given an ultimatum: Marry the leader of one of the four neighboring kingdoms, or lose her crown—and possibly her life. And to force her hand, her beloved, the stable boy Luca, is kidnapped.
But Amarande was raised to be a warrior, not a sacrifice.
And nothing will stop her from saving her true love and rescuing her kingdom.
The acclaimed author of Sea Witch turns the classic damsel-in-distress tale on its head with this story of adventure, identity, and love.
My Review
"True love is the most powerful force on this earth- we just forget it because those with power here deal in fear rather than love."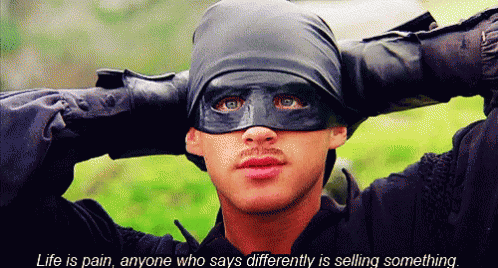 The Princess Bride is a classic and was an instant favorite when I was younger and it still is to this day. So when I heard that Henning was writing a strong feminist retelling, I was nervously excited because those are some pretty big shoes to fill. But Henning stepped up to the plate, knocked it out of the park, and left me in awe.
What if Buttercup saved Westley? This gender-swapped fantasy retelling will let you know that you should never underestimate the power of a female.
King Sendoa of Ardenia dies suddenly, leaving Princess Amarande the only heir to the throne. But since she's female and not yet wed, the Kingdom can't be hers until some of the requirements are met. Princes from other territories come far and wide to ask to take her hand in marriage but she wants the rules to change. She wants to rule Ardenia alone until she finds the right person and time to marry.
To force her into marrying someone she despises, Luca, her best friend and beloved is kidnapped.
She was always taught to fight for what she believes in and never sacrifice for something less. There is only one thing to do. That's to put her life on the line to save Luca and her Kingdom. Nothing or no one will step in her way.
Okay, wow! This was epic. This was one of the best unique retellings that I've ever read. Henning took a classic that is close to my heart and turned it into something that is her own while also twisting the damsel in distress tale overboard. You'll be amazed at the power of her words.
Princess Amarande was such a badass and strong character. She's who we need at the head of this feminist revolution and I'm glad she's now apart of my life. She also has made a special place in my heart. Her story and dedication for what she believes in will make you proud to be reading her story. She's one character that will always stick with you.
The Princess Will Save You is the Princess Bride reimagining that we all needed. My mind is still blown by what I have read. This is one everyone needs to experience. It's one that has left me speechless.