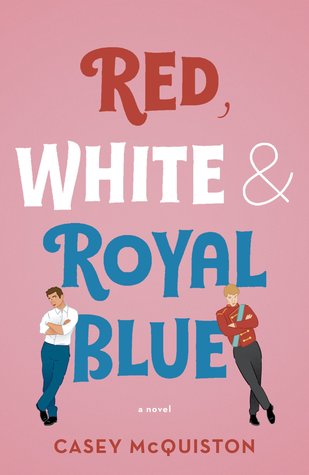 A big-hearted romantic comedy in which the First Son falls in love with the Prince of Wales after an incident of international proportions forces them to pretend to be best friends…
First Son Alex Claremont-Diaz is the closest thing to a prince this side of the Atlantic. With his intrepid sister and the Veep's genius granddaughter, they're the White House Trio, a beautiful millennial marketing strategy for his mother, President Ellen Claremont. International socialite duties do have downsides—namely, when photos of a confrontation with his longtime nemesis Prince Henry at a royal wedding leak to the tabloids and threaten American/British relations.
The plan for damage control: staging a fake friendship between the First Son and the Prince. Alex is busy enough handling his mother's bloodthirsty opponents and his own political ambitions without an uptight royal slowing him down. But beneath Henry's Prince Charming veneer, there's a soft-hearted eccentric with a dry sense of humor and more than one ghost haunting him.
As President Claremont kicks off her reelection bid, Alex finds himself hurtling into a secret relationship with Henry that could derail the campaign and upend two nations. And Henry throws everything into question for Alex, an impulsive, charming guy who thought he knew everything: What is worth the sacrifice? How do you do all the good you can do? And, most importantly, how will history remember you?
My Review:
"You're the Han to my Leia in that you are, without doubt, a scruffy-looking nerf herder who would pilot us into an asteroid field."
Have you heard all the hype surrounding this book? A Prince and the first son are in a secret relationship and it's giving everyone life. Well, you damn well better believe all that hype because this was the cutest thing ever.
Prince Henry and the First Son, Alex has a very mutual hatred towards one another and it's definitely not a secret. They can't even be in the same room together without chaos following.
At a royal wedding, an altercation ensues and it ends up with them ruining the cake. It instantly hits the press and both families are enraged.
To bring peace between the Royals and the US Presidents family, they come up with a contract that has Henry and Alex becoming friends and showing that to the public. They have to act cordial towards one another in public but can despise each other behind closed doors.
With spending so much time together, something happens between the two and secrets start to flow. Will their secret ruin the lives of their families? Or will their secret change history for the better?
This was so much more than a sweet romance that sweeps you off of your feet. It was quirky and quite funny. Some parts were laugh-out-loud funny and it makes this stand out from others.
Red, White & Royal Blue is a new romance that we were all craving. It was absolutely adorable and totally swoon-worthy. The love between Henry and Alex felt natural and not forced which we see in a lot of romantic titles. Add this one to your tbr because this one will not disappoint. And I can't wait for you to fall in love with Henry and Alex just as I did.
Happy Reading!