Storm and Fury- Jennifer Armentrout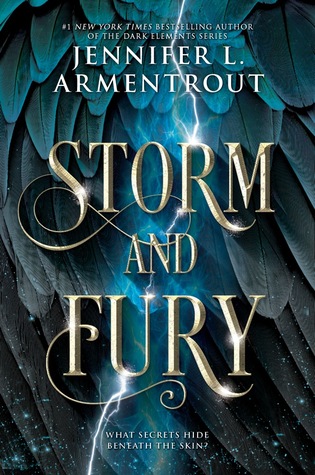 Eighteen-year-old Trinity Marrow may be going blind, but she can see and communicate with ghosts and spirits. Her unique gift is part of a secret so dangerous that she's been in hiding for years in an isolated compound fiercely guarded by Wardens—gargoyle shape-shifters who protect humankind from demons. If the demons discover the truth about Trinity, they'll devour her, flesh and bone, to enhance their own powers.
When Wardens from another clan arrive with disturbing reports that something out there is killing both demons and Wardens, Trinity's safe world implodes. Not the least because one of the outsiders is the most annoying and fascinating person she's ever met. Zayne has secrets of his own that will upend her world yet again—but working together becomes imperative once demons breach the compound and Trinity's secret comes to light. To save her family and maybe the world, she'll have to put her trust in Zayne. But all bets are off as a supernatural war is unleashed…
This Book Is Not Yet Rated- Peter Bognanni
The Green Street Cinema has always been a sanctuary for Ethan. Maybe it's because movies help him make sense of real life, or maybe it's because the cinema is the one place he can go to still feel close to his dad, a film professor who died three years ago. Either way, it's a place worth fighting for, especially when developers threaten to tear it down to build a luxury condos.
They say it's structurally unsound and riddled with health code violations. They clearly don't understand that the crumbling columns and even Brando, the giant rat with a taste for sour patch kids, are a part of the fabric of this place that holds together the misfits and the dreamers of the changing neighborhood the cinema house has served for so many years.
Now it's up to the employees of the Green Street Cinema–Sweet Lou the organist with a penchant for not-so-sweet language; Anjo the projectionist, nicknamed the Oracle for her opaque-but-always-true proclamations; Griffin and Lucas who work the concessions, if they work at all; and Ethan, known as "Wendy," the leader of these Lost Boys–to save the place they love.
It's going to take a movie miracle if the Green Street is going to have a happy ending. And when Raina, Ethan's oldest friend (and possible soul mate?), comes back home from Hollywood where she's been starring in B-movies about time-traveling cats, Ethan thinks that miracle just may have been delivered. But life and love aren't always like the movies. And when the employees of the Green Street ask what happens in the end to the Lost Boys, Ethan has to share three words he's not been ready to say.
You- Caroline Kepnes
"Hypnotic and scary." —Stephen King
"I am RIVETED, AGHAST, AROUSED, you name it. The rare instance when prose and plot are equally delicious." —Lena Dunham
From debut author Caroline Kepnes comes You, one of Suspense Magazine's Best Books of 2014, and a brilliant and terrifying novel for the social media age.
When a beautiful, aspiring writer strides into the East Village bookstore where Joe Goldberg works, he does what anyone would do: he Googles the name on her credit card.
There is only one Guinevere Beck in New York City. She has a public Facebook account and Tweets incessantly, telling Joe everything he needs to know: she is simply Beck to her friends, she went to Brown University, she lives on Bank Street, and she'll be at a bar in Brooklyn tonight—the perfect place for a "chance" meeting.
As Joe invisibly and obsessively takes control of Beck's life, he orchestrates a series of events to ensure Beck finds herself in his waiting arms. Moving from stalker to boyfriend, Joe transforms himself into Beck's perfect man, all while quietly removing the obstacles that stand in their way—even if it means murder.
A terrifying exploration of how vulnerable we all are to stalking and manipulation, debut author Caroline Kepnes delivers a razor-sharp novel for our hyper-connected digital age. You is a compulsively readable page-turner that's being compared to Gone Girl, American Psycho, and Stephen King's Misery.
What are you reading this week?